Hydraulic Cylindrical Grinding Machine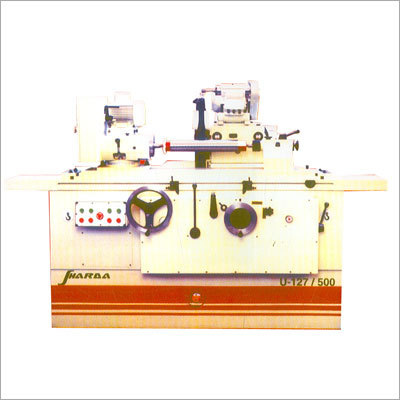 Hydraulic Cylindrical Grinding Machine
Product Code : JMT16
Brand Name : JAGRUTI MACHINE TOOLS
Loaded with rich industrial experience and expertise, we have become a prominent supplier and trader of wide gamut of Hydraulic Cylindrical Grinder. Available in different shapes, sizes and requirements, these grinders are obtained from reliable sourced of the industry. Our offered range of Hydraulic Cylindrical Grinder is well acclaimed for features such as simple setup, easy operation, high performance, dimensionally accurate in nature, flawless, sturdy in construction and so on.
These machines are capable to achieve a very high degree of accuracy of roundness and cylindricity on job. They are suitable for tool room and production jobs to carry out cylindrical, face and internal grinding opeartions.
These machines are classified in three different versions as stated below having 260 mm or 350mm maximum swing over table :-
UCG : UNIVERSAL CYLINDRICAL GRINDER
ECG : EXTERNAL CYLINDRICAL GRINDER
ICG : INTERNAL CYLINDRICAL GRINDER
Automatic Grinding Cycle:
The automatic grinding cycle has Rapid approach – Coarse feed – Fine feed – Sparkout and rapid retraction of the wheelhead and the infeed handwheel to the preselected position. The cycle also controls START/STOP of workhead motor, coolant motor and table reciprocation. In the case of long job, the termination of grinding cycle is selectable either at Left, Right or at Any position of the reciprocation table. While internal grinding cycle is on, wheel side always remains in retracted position.
The total amount of Infeed and Fine feed as well as Feed rate of Coarse and Fine feed are selectable. There is optional arrangement to equip the cycle with an In-Process guaging device for direct measurement during grinding.
Infeed System:
The infeed is operated by precision ground cam. The movement of infeed slide (Wheel slide) is based on hardened, ground and preloaded roller guideways which guarantees stick-slip free movement and exceptionally fine repetitive accuracy + 1 micron. The plunge grinding at any desired approach angle upto 45o degree can be done.
Single liver operates the complete grinding cycle. Considering work piece requirement, there is wide scope to select proper grinding cycle i.e.
Plunge
Traverse with infeed on L.H.S
Traverse with infeed on R.H.S
Traverse with infeed on both ends (L.H.S & R.H.S)
Workhead:
The machine has a rigid workhead spindle which runs in hydro-dynamic multi-point bearings. The design of workhead is of catridge type. Very high roundness accuracy is the distinctive achievement obtained through the workhead. While either live spindle grinding or between centre grinding on universal swivelling workhead.
Wheelhead:
The wheelhead spindle runs in high precision multi-point hydro-dynamic bearings to achieve very high rigidity and excellent surface finish. The design of wheelhead is of catridge type. The wheel slide can be swivelled through + 45o degree.
Angular Wheelhead:
It is an optional characteristic of inclined feed, whee is mounted on the right hand side to get the grinding of diameter and face at a time.
Tailstock:
The tailstock is designed for high rigidity. The facilities such as Fine taper setting of + 20 microns and hydraulic tailstock actuation are optionally provided.
Hydraulic/Electrical System:
The hydraulic power pack is equipped with solinoid valve, hydraulic pump and motor etc., which is located outside the machine to avoid vibration and thermal distortion. The electric controls cabinet is also housed outside the machine for easy maintenance.
Swivel Table:
Table is arranged to swivel for taper grinding. For fine corrections to be applied by the screw adjustment.
Internal Grinding Attachment:
The hinged type Internal Grinding Attachment with its independent motor is conveniently located on the wheelhead. It has fast grinding action and it can be quickly swung into a grinding position. The work piece can be externally and internally ground in one setting. Taper hole can be ground by swivelling either workhead or table.
There are so many standard and special accessories that can be added to the machine as per requirement.
Technical Specifications:

UNIT CG 260/350

CAPACITY
Centre height
mm
130 / 175
Centre distance
mm
500 / 800 / 1000 / 1200
Grinding lenght
mm
500 / 800 / 1000 / 1200
LONGITUDINAL SLIDE
Table Speed
m/min
0.1-5
Max. Travel
mm
550 / 850 / 1050 / 1250
Min. Automatic Travel
mm
3
Max. Swivel of table
degree
-3to+12 / -3to+9 / -2to+8 / -1to+7
INFEED SYSTEM
Rapid approach
mm
40
Infeed with Hand wheel
mm
20
Min. Incremental on dia.
mm
0.001
Swivel range
degree
+ 45
Max. Plunge depth on dia.
mm
1.7
**Coarse infeed rate on dia
mm/min
0.015-6
**Fine infeed rate on dia
mm/min
0.015-3
**Spark Off time
sec.
0-60
WHEELHEAD
Grinding wheel
(OD x Width x Bore)
mm
400 x 50 x 127
Max. Width
mm
80*
Max. Dia.
mm
500*
Spindle speed (4 Step)
rpm
1500 / 1750 / 2020 / 2350
Peripheral surface speed
m/sec
30/45*
Power
kw
3.7/5.5*
WORKHEAD
Spindle speed
rpm
56 to 630 (8 steps)24 to 240* (steplessly variable)
Power
kw
0.28 to 0.55
Taper
MT – 5
TAILSTOCK
Quill travel
mm
25
Taper
MT – 3
INTERNAL GRINDING
Spindle housing bore
mm
100
Standard spindle
mm
Dia. 60 x 250
Spindle speed
rpm
18000
GUARANTEED ACCURACY
Roundness on Live spindle
Standard Equipment
mm
0.002
Special Equipment
mm
0.001*
0.0005*
GENERAL
Total power requirement
kw
6.5/8.3*
Total weight of the m/c
kg.
2800 / 3500 / 3900 /4200
8, Ravi Industrial Estate, Opp. Maniar Trailors, Behind Ajit Mills, Rakhial, Ahmedabad - 380023, Gujarat, India
Phone : +917259451651
Fax : 91-79-22748723
Mr. Kiran Mehta (Partner)
Mobile : +917259451651